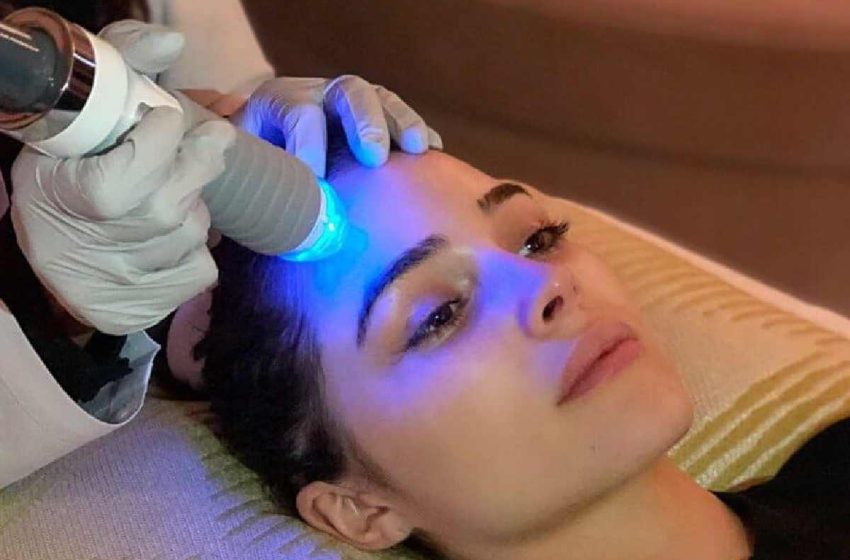 Understanding RF Microneedling
Understanding RF Microneedling
Are you dreaming of beautiful, youthful skin without a fuss? Look no further! Imagine a skincare trick that combines radio waves with tiny needles, making your skin glow like never before. It's called RF microneedling, and it's changing the skincare game.
In this blog, we'll unravel the mystery of RF microneedling devices. We'll explain what they are, how they work, and why everyone's talking about them. Whether you're a skincare pro or a newbie, get ready to be wowed by the science and simplicity behind RF microneedling.
Join us as we uncover the secrets to flawless skin. Say goodbye to complicated routines and hello to a brighter, younger-looking you. Let's dive into the world of RF microneedling — it's like magic for your skin!
What Is an RF Microneedling Device?
An RF microneedling device is a beauty and skincare tool that combines tiny needles with radiofrequency technology. It's used to improve the appearance of the skin by creating microscopic channels on the skin's surface while delivering controlled radiofrequency energy.
This process helps stimulate collagen production, reduce wrinkles, and enhance overall skin texture, leading to a more youthful and radiant complexion.
How Does an RF Microneedling Device Work?
An RF (Radiofrequency) Microneedling Device works by combining two powerful skincare techniques: microneedling and radiofrequency energy.
Here's a simple explanation of how it works:
Microneedling
Microneedling involves the use of very fine, sterile needles to create tiny, controlled punctures on the skin's surface. These punctures trigger the skin's natural healing response. As the skin repairs itself, it generates new elastin and collagen, which are essential for maintaining skin elasticity and firmness. Essentially, microneedling kickstarts the body's rejuvenation process by promoting the production of these vital building blocks for healthy skin.
Radiofrequency Energy
Radiofrequency (RF) energy is a form of electromagnetic energy that is safe and effective for use on the skin. RF technology used in microneedling devices delivers this energy into the deeper layers of the skin, where it gently heats the tissue. Unlike lasers, RF energy does not harm the outermost layer of the skin, making it suitable for a wide range of skin types and tones. This controlled heating stimulates collagen production and tightens the skin, leading to a smoother and more youthful appearance.
Collagen Boost
The combination of microneedling and RF energy is particularly powerful because it addresses skin concerns on multiple fronts. Microneedling creates micro-injuries that prompt the body to produce collagen, while RF energy further boosts collagen production by delivering heat deep into the skin. Collagen is vital for maintaining skin elasticity, reducing the appearance of fine lines and wrinkles, and improving overall skin texture. As collagen levels increase, the skin becomes plumper, firmer, and more youthful.
Skin Rejuvenation
RF microneedling is a versatile treatment that can address a wide range of skin concerns, including wrinkles, acne scars, enlarged pores, fine lines, and skin laxity. By stimulating collagen production and enhancing skin elasticity, it rejuvenates the skin's appearance. Additionally, the controlled heating from RF energy can improve skin tone and texture, giving you a more radiant and refreshed complexion.
Frequently Asked Questions
What Skin Concerns Can RF Microneedling Address?
RF microneedling is effective for treating a range of skin concerns, including fine lines, acne scars, skin laxity, enlarged pores, wrinkles, and uneven skin texture. It can also improve overall skin tone and radiance.
Is RF Microneedling Painful?
Most individuals find RF microneedling to be tolerable. Numbing cream is typically applied before the procedure to minimize discomfort. You may feel a slight sensation during the treatment, similar to tiny pinpricks and mild heat.
How many sessions are required to see results?
The number of sessions needed varies depending on individual skin concerns and goals. Many people undergo a series of treatments, typically spaced a few weeks apart. Visible improvements may become noticeable after the first session, with more significant results becoming apparent over time.
Is There Downtime After an RF Microneedling Treatment?
There is usually some downtime associated with RF microneedling, but it is relatively minimal compared to more invasive procedures. Patients may experience swelling, redness, and mild discomfort for a few days. However, most individuals can return to their regular activities within a few days.
What Should I Look For in the Best RF Microneedling Device?
When choosing the best RF microneedling device, consider factors such as safety, FDA clearance, the reputation of the manufacturer, adjustable depth settings, and the type of needles used (insulated or non-insulated). It is best to consult with a qualified dermatologist or skincare professional to determine which RF microneedling device is most suitable for your specific skin concerns and skin type.
How Long Do the Results of RF Microneedling Last?
The longevity of results varies, but many individuals can enjoy improvements for several months to a year or more. Maintenance treatments may be recommended to sustain the benefits over time.
Who Is a Suitable Candidate for RF Microneedling?
RF microneedling is generally suitable for individuals with various skin types and concerns. However, it is essential to consult with a qualified practitioner to determine if it is the right treatment for your specific needs and skin type.