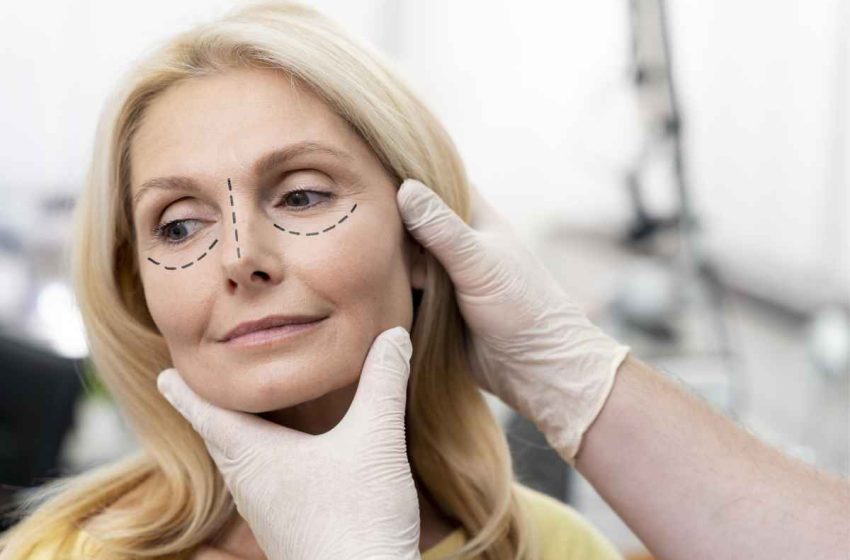 Is There Such a Thing as a No-Scar Facelift?
Like it or not, facelifts leave scars. But today, some methods can reduce the extent of these. Techniques like the vertical facelift method give a more natural look while ensuring that scars are generally well-hidden.
Remember that there are ways to reduce scarring no matter what type of facelift you have. Simple techniques after your facelift surgery can mean a better result. (We'll go over that below in this article.)
Here's what you need to know to get a result you'll love.
What Is a Facelift?
Facelifts are an extremely popular method of looking younger. In 2020, more than 230,000 facelifts were performed in the U.S.
The procedure (performed on both men and women) tightens the skin on the midface. A neck lift is often performed along with a facelift for best results.
How a Traditional Facelift Is Performed
There are a variety of ways plastic surgeons perform facelifts.
Here is what usually happens during a standard facelift:
The patient is placed under IV sedation or general anesthesia.
The initial incision is made. This can be shorter or longer, but for a traditional facelift, it will go along the hairline from the temple to the lower scalp. The incision can go in front of or behind the ears.
Excess skin is excised (cut away) and removed.
Fat and tissue are repositioned for a smoother finished appearance.
The skin is re-draped and sutured (stitched) closed.
The patient is awakened from the anesthesia and asked to walk a few steps.
The Benefits of a Vertical Facelift
With the above method, the skin is pulled laterally (to the sides). While this can be effective, it can occasionally result in a pulled-back or "windswept" appearance.
An alternative to the traditional facelift is the vertical facelift. Patients choose a vertical facelift because of it:
Can result in a more naturally "lifted" appearance
Allows for repositioning of muscles for a younger look under the skin
Is considered less invasive
Involves just two small incisions so that scars are nearly undetectable
What Does a Vertical Facelift "Fix"?
A vertical facelift may correct:
Drooping cheeks
Deep nasolabial folds (creases next to the nose)
"Marionette" lines (creases next to the mouth)
Smile lines
Jowls
Remember that traditional and "mini" facelifts also seek to help with the above issues. Your facelift choice will depend upon the problems you want to address. Talk with your plastic surgeon to choose the correct technique for your goals.
How a Vertical Facelift Is Performed
Some of the steps are the same as a traditional facelift. However, the types of incisions and muscle repositioning can be different.
In addition, instead of a longer incision along the hairline, a vertical facelift uses just two small incisions. These will be placed for invisibility (or near-invisibility) once you're healed.
Instead of pulling tissue and skin horizontally, facial tissues are lifted gently upward. Additional techniques, such as fat transfer under "hollow" eyes, may be added to your surgery.
Do All Plastic Surgeons Perform Facelifts?
No. Some cosmetic surgeons specialize in just one part of the body. And some perform various plastic surgery techniques but do not do facelifts.
Make sure you choose a plastic surgeon who has plenty of experience with facelifts. Ask them how many facelifts they perform in a year and ask to see before-and-after photos to get an idea of their skill.
Do All Facelift Surgeons Perform Vertical Facelifts?
Not every facelift surgeon is familiar with the vertical technique. While it can deliver an excellent and natural result, the technique requires an impressive degree of skill.
So be sure you're selecting a surgeon who has performed this technique frequently and can answer all your questions.
What You Can Do to Help Prevent Scars
Of course, you may be wondering about the bottom line: will your facelift leave scars?
A skilled facelift surgeon will place any incisions in inconspicuous places. For example, the incision for a traditional facelift may go behind the ear and will follow the hairline. This will help "hide" any scarring once you have healed.
For a vertical or "mini" facelift, the incisions will be small. They will also be carefully placed so they're well hidden.
Here's what you can do to make sure you heal well with less scarring:
Protect your face from the sun while it's healing. Wear a hat and sunscreen once your surgeon tells you to do so. UV (ultraviolet) sun exposure can increase scar pigmentation.
Keep the area clean. Make sure to cleanse your face per your surgeon's instructions. This will help prevent infection that could potentially mean worse scarring.
Use a surgeon-approved skin or scar cream as soon as it is safe.
Stay lightly active. You won't be able to work out or lift heavy objects for a couple of weeks, but walking is perfect. Light activity helps prevent post-surgery blood clots. It also keeps the blood flowing to the area where it's needed.
Whichever method you choose, taking these simple precautions can mean a better result. Follow your physician's directions, and you can have a face you love for years to come.